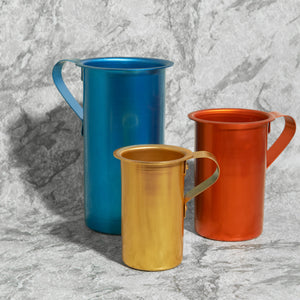 Oinometra Cups
Regular price $16.00 On Sale!
small: 2.88"ø x 4" high, medium: 3.38" x 5", large: 4" x 6.75"
Aluminum
GREECE
Oinos = wine + metra = measurement. How do you measure your wine? Moreover, how do you serve it? Only the red one is for wine, according to Greek taverna tradition. Logos dictates then that blue = water and golden = olive oil, and that is what we find at any Daphney's or Atalasi. In my house you can find something planted in the blue one, some kitchen tools organized in the red one, and the residue of Marco's coffee in the gold. Housekeeping, Marco! Did you know that oinos, Greek for wine, sounds like oikos, Greek for house? Œconomy (do you spell it e-conomy?) is the measurement of the house, and oinometra is the measurement of the wine. And these cannot be found at Ikea, the Swedish derivative from oikos. More oinometra, and less œconomy, I say! Although less common than before, you can find them in many of the tavernas in Greece. Made by the same amazing man who makes the ashtray and delivery tray. The one who let Marco try out not his lathe but his brothers! Yes! Marco learned how to make a spun aluminum cup; that was really, really funny. 
We have 16 in stock. Between them all.