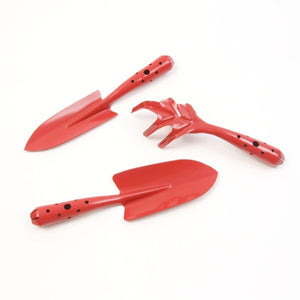 Red Metal Garden Tool Set
Regular price $32.00 On Sale!
Wide Shovel: 11.5" x 3.5"
Pointy Shovel: 11.5" x 2.5"
Hand Trowel: 10.5" x 3.5"
Powder Coated Steel
SWEDEN
Garden hand tools with the right weight in the right color. The holes in the handle combined with the cool iron feel great on your garden-work-sore hands. The red color prevents you from losing sight of them, unless they are dropped among your dear red poppies. My sister said no real gardener would use these because the handles are not cushioned. Well, I think of myself as a real gardener, even though I am city-folk, and I use them! She's a softy! Good in the sandbox too! The tools are made by a family owned factory in central Sweden that still runs on local production. Gnosjö, a town known in Sweden for its entrepreneurial spirit, or as the saying goes...Gnosjö-andan! A bunch of our Swedish suppliers are from there and they all seem to communicate/share resources with each other. Good, solid scene. The factory has been manufacturing the design since they opened in 1976 and have produced over 4 million pieces since then! Not bad...
We have 10 in stock.