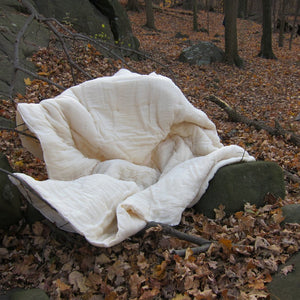 Wool Comforter
Regular price $220.00 $220.00 On Sale!
Cotton & Wool
USA
For years I have sworn off down for ethical reasons, but you know what, I never sleep well under blankets or synthetic comforters. The weight is not right and the warmth, I find, is not evenly distributed. Oh, it's so cozy with a wool comforter on the bed. It's cool when it gets warm inside, and warm when it gets cold. Some of you might be interested to hear that wool is dust mite resistant. Our supplier has been in business for 114 years and we have been stocking this cushion of joy on and off for the past 12. It means they know how to make what they sell, and they know how to maintain them. They insist a twice a year outdoor clothesline airing is all these need to stay fresh but they will also take a comforter in for washing at a reasonable price. Personally, I go for the airing and it's been fine, I do use a cover on mine. Dive into a cradle of wool, its fluffy, and sleep with the sheep, a gentle sleep.
approx. 2 delivery time.
Twin           60 x 90
Double       72 x 90            
Queen        90 x 90          
King          108 x 90