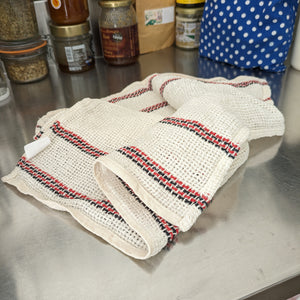 Cotton Woven Cloth
Regular price $11.00 On Sale!
17" x 17"
Linen
IRELAND
I had feelings of envy for some time whenever I visited my friend Ruth. Her glimmering countertops made me wonder about the path I was on. What was I doing wrong? How could I ever cope? Where would I find the answers? It went low. I was growing resentful. I wanted that shine too. It never occurred to me that her shimmer had one simple explanation, a cloth, a specific cloth. There is a tradition for polishing things in the UK, a certain dignity to be found in shine. This cloth made since who knows when in the late 1800s when the Empire was still going strong, is a solid, reliable cloth to be used, possibly in the buff, to wipe, polish, clean and make miracles out of some simply woven plant fiber. It looks like nothing but put your trust here.  Be sure to wash before using and use on any thing. I don't need to know the details.

We have 20+ in stock.