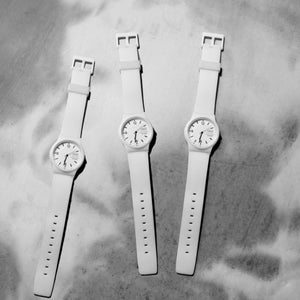 Plastic Watch
Regular price $48.00 On Sale!
1.25" Face
Plastic & Metal
GREECE
Timeliness is next to godliness, and not a quality of Greek gods or men. I waited and waited for many things in Greece, but I didn't mind. Like the smoking thing, Greeks don't get punctuality. At first, I wanted to give one of these watches to each and every person I waited for, but then I realized, over my third pitcher of retsina, that I should just go with the flow and relax. Two more pitchers came and I decided to scrap my put-Greece-on-the-clock austerity package. Angela Merkel could use the retsina, she surely has a watch. I realize I haven't worn a watch since maybe 1988? However, Sofia who works with us in Greece is incredibly timely, so to keep up with her I found the need to keep one eye on my wanderings and one on the clock. I find reaching for my phone to check the time incredibly stressful. The phone holds so much, essentially my entire life; grabbing it to check the time has become a momentous experience. A time check leads to checking the email, to looking at the calendar, the news feed pops up, etc., etc., etc. The list goes on, and on, when all I really want to know is if I am on time, a stressful thing in itself. Now, the watch on the other hand: one flick of the wrist is all I need. I used to think wearing a watch made me neurotic; it was like time was haunting me. Now I find just the opposite; it's a comfort. And I can use this one at up to 10 bars of water pressure, which is way more than a shower.
We have 20+ in stock.