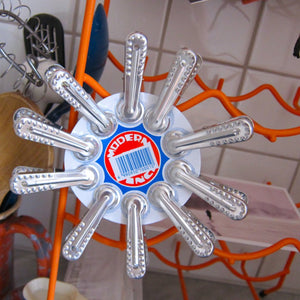 Metal Clips
Regular price $21.00 On Sale!
Each Clip: 2 1/4" long
Aluminum
JAPAN
Old fashioned, but still practical and functional - most commonly used for laundry, but happening all over the house. These clips speak for themselves: hundreds of uses and beautiful, anonymous design. They are handy: to clip papers together, keep food fresh, hang art, close your freezer bags, clip chips, hang laundry, clip a tomato plant to a stick, they clip almost anything. Makes you wonder how you could have lived without a bag of them! Everyone can use them, often friends give away en masse. Of particular note is the small hole in at the top that fits just so on a nail, this feature I like. Comes as a set of 10 clips.
We have 20+ in stock.